EXECUTIVE PROGRAM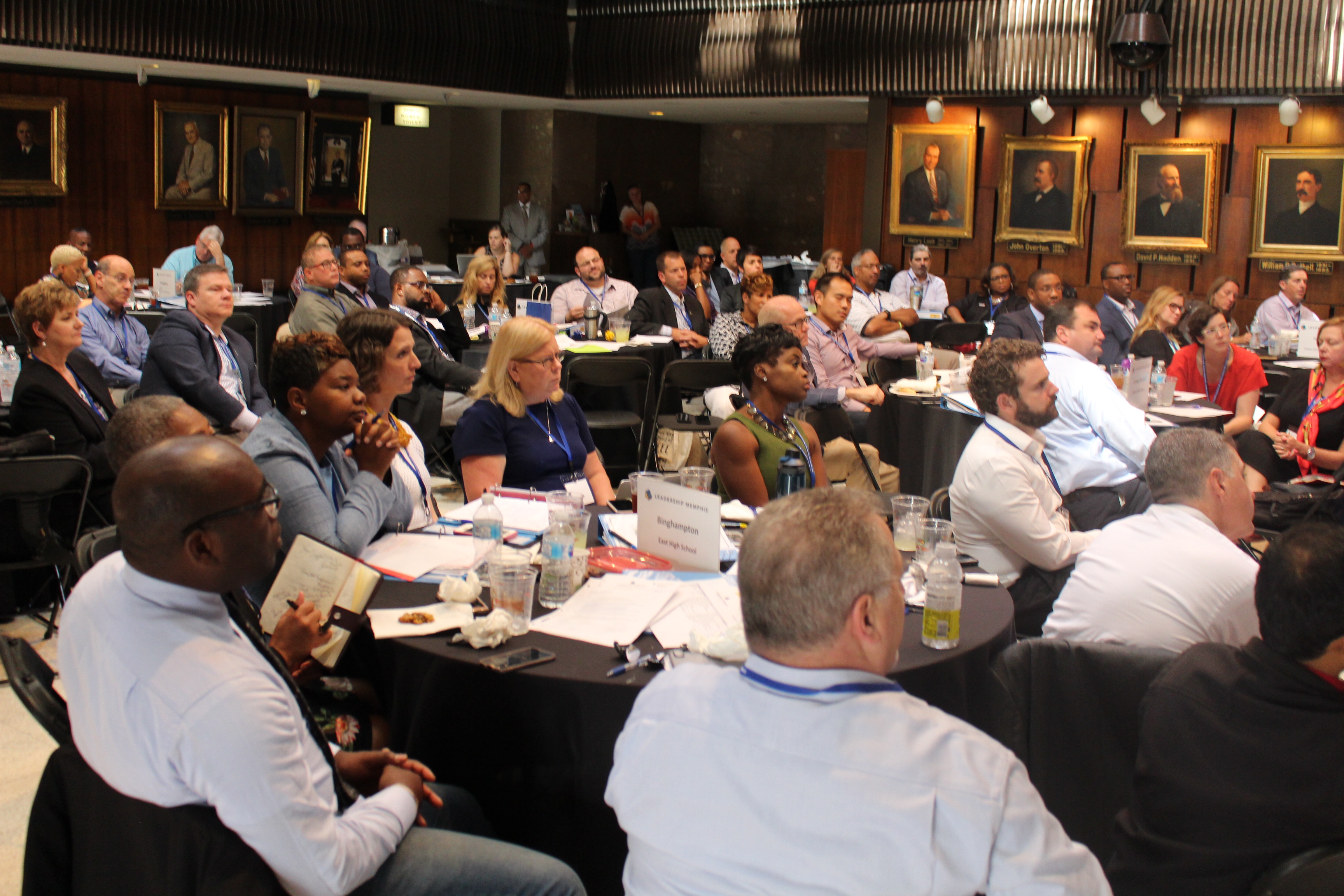 Overview
The Leadership Memphis Executive Program brings together the brightest and most experienced leaders with the goal of digging deeper into complex social and economic issues and opportunities facing the Greater Memphis community.
Over a nine-month period, participants are immersed in an intensive experience aimed at building on existing personal and professional leadership skills to develop relationships and networks that drive and accelerate positive change.
By empowering participants with the knowledge and desire to make a more meaningful impact in the community, the Executive Program is much
more about what you can give than what you get.
Commitment & Expectations
The Executive Program is comprised of several components that are intentionally built to complement and enhance the participant experience. Beginning in August, the Executive Program leads participants through monthly learning sessions, provides increased exposure to high-profile and effective leaders and organizations, and offers expanded connectivity to the challenges facing Memphis today and opportunities for the Memphis of tomorrow.
Overall commitment is approximately 120 hours:
Class session hours
Volunteer hours
Group service-learning project
Session topics include learning and hands-on activities related to issues such as economic and workforce development, arts and culture, civic leadership, emotional intelligence, urban revitalization, and much more. Attendance at the following is required for graduation:
Orientation event
Memphis 3-2-1 kickoff event
At least 6 of the 8 class days
Ideal Executive Program participants are individuals seeking to gain a deeper understanding of the Memphis community with a focus on how to more effectively work together and leverage assets. Participants graduate better equipped to serve as agents of change for the good of the whole community.
Tuition for the Executive Program is $4,995 plus $35 application fee and covers all program materials, meals, and cost of activities. Limited scholarships are available.
Application/Nomination Process
The Executive Program consists of executive level professionals committed to the curriculum requirements and expectations of the organization. Participants are determined by using a selective nomination process. Nominations are typically made by upper-level corporate and community leaders and Leadership Memphis alumni. Self-nominations are encouraged. Selections are made and the cohort is announced in July.
What Participants Say
"Overall, I really enjoyed the program and it helped me gain an even greater appreciation for Memphis.  I really enjoyed the opening advance…. Having an opportunity to actually walk the city and learn about so many wonderful places and agencies that I might have only had a passing familiarity with was wonderful."
"This has been a great experience!  It has made me a better leader and I am in love with Memphis!"
"The networking value alone is an important reason to participate in Leadership Memphis. However, having the opportunity to positively effect change in our communities by impacting the lives of Memphians is the ultimate selling point of the program."
For more information, contact Leadership Memphis at (901) 278-0016.
2020 Calendar of Events
Orientation and Welcome Reception dates will be announced in Summer 2019. Unless otherwise specified, all Class Days will take place on Fridays beginning at 8:00 a.m. and ending at 3:00 p.m. CT. Locations and Class Day agendas will be shared prior to each session.
Orientation: July 2019 TBA
Welcome Reception: August 2019 TBA
Memphis 3-2-1 Kickoff: August 21-23, 2019
Class #1: September 20, 2019
Class #2: October 11, 2019
Multicultural Breakfast, November 1, 2019
Class #3: November 8, 2019
Holiday Party, December 2019 TBA
Class #4: December 6, 2019
Class #5: January 10, 2020
Class #6: February 14, 2020
Leadership Awards Luncheon, March 6, 2020
Class #7: March 13, 2020
Class #8: April 17, 2020
Graduation Celebration: Wednesday, April 29, 2020