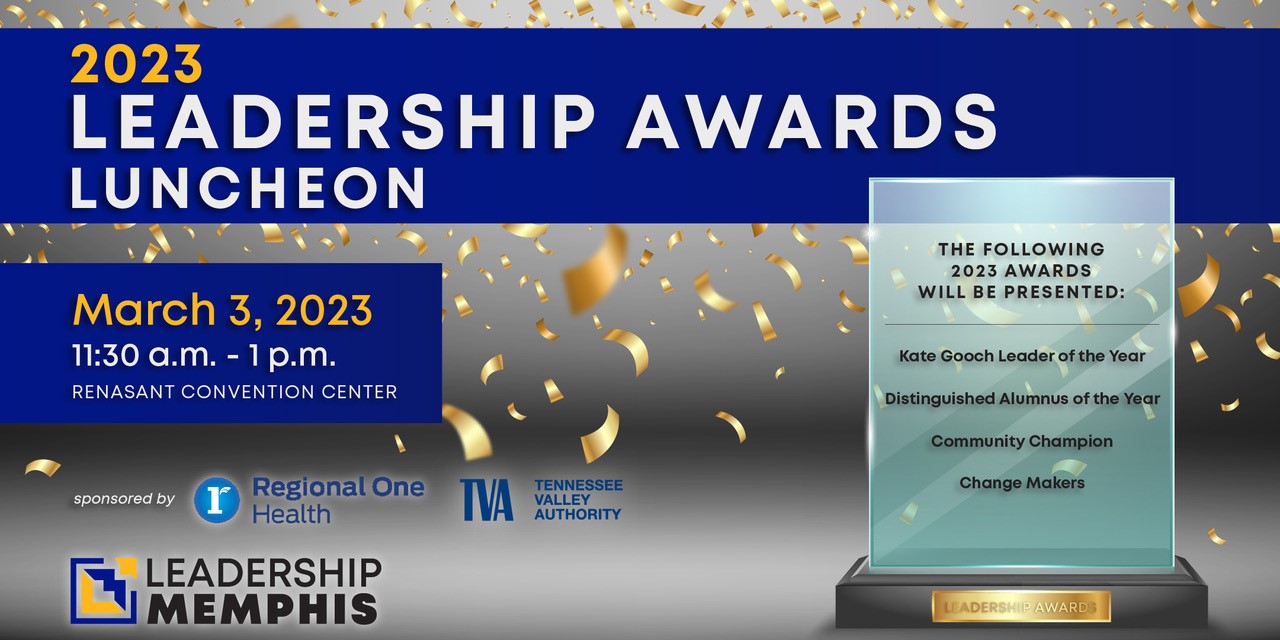 2023 Leadership Awards Luncheon
Leadership Memphis is proud to host the 2023 Leadership Awards Luncheon! The luncheon will take place on March 3, 2023, from 11:30 a.m. to 1:00 p.m. at the Renasant Convention Center. A special thank you to our sponsors Regional One Health and TVA!
Each year, we honor community leaders and businesses who exemplify the true meaning of collective impact through our Kate Gooch Leader of the Year, Distinguished Alumni of the Year, and Community Champion of the Year awards.
Leadership Memphis also recognizes 10 individuals as Change Makers selected from a list of nominated individuals who are rare and unique forces of positive change.
These dynamic individuals come from various backgrounds and organizations but share a common passion for bettering the world around them. Each Change Maker's work has enhanced the community, uplifted other people, and made Memphis a better place. Leadership Memphis considers Change Makers a rare species. While they are mere individuals, they nevertheless changed the lives of others through their actions. Each has impacted our community in a very big and very positive way. Their work has helped enhance the quality of life and livelihoods of others and made Memphis a better place in the process.
To inquire about being a Table Sponsor, please contact Michelle Dooner at mdooner@leadershipmemphis.org

2022 Award Winners:
The 2022 Kate Gooch Leader of the Year was Doug McGowen, Chief Operating Officer, of The City of Memphis
The 2022 Distinguished Alumni of the Year was Valerie Morris Bearup, President, and CEO, of Morris Marketing Group
The 2022 Community Champions were The City of Memphis and Collage Dance Collective.
2022 Change Makers:
Dr. Reginald Boyce, Senior Pastor, Riverside Missionary Baptist Church
Briggette S. Green, President/Managing Member, TopCat Masonry Contractors LLC
Edith Kelly-Green, Founder and Member, KGR Group
Heidi Kuhn, Shelby County Criminal Court Clerk, Shelby County, Tennessee
Dr. Jon McCullers, Pediatrician-in-Chief, Chair, Department of Pediatrics, COO, Le Bonheur Children's Hospital and The University of Tennessee Health and Science Center
Dr. Denise Mustiful-Martin, Founder and Owner, Periodontal Specialists of Memphis
Michael Scruggs, Powerlines Site Coordinator (Whitehaven), Agape Child and Family Services
Dr. Stacy L. Spencer, Senior Pastor, New Direction Christian Church
Rhonda Lambert Treadwell, Executive Director, Dress for Success Memphis
Dr. Bobby White, Founder and CEO, Frayser Community Schools
Consider donating to Leadership Memphis to help us continue hosting events like this!