Reggie Crenshaw Named President and CEO of Leadership Memphis and Volunteer Memphis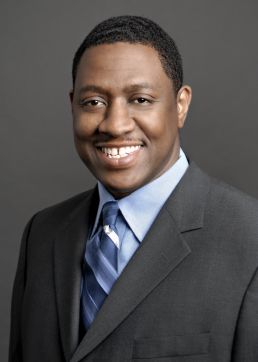 MEMPHIS, Tenn. – May 12, 2021 – The Leadership Memphis and Volunteer Memphis Board of Directors named Reggie Crenshaw as their new President and CEO today. Crenshaw, a Memphis resident for nearly 15 years and a 2011 graduate of the Leadership Memphis Executive Program, has been serving as Interim President and CEO since August 2020.
"After a national search it was evident that Reggie Crenshaw's wealth of transformative and innovative experience along with his hands-on style and extraordinary vision for these organizations was the best choice to continue and improve upon the great work Leadership Memphis and Volunteer Memphis is known for," said Reginald Porter Jr., Leadership Memphis Board Chair.
Crenshaw brings more than 20 years of leadership experience in the business and nonprofit communities to Leadership and Volunteer Memphis. A graduate of the United States Military Academy at West Point with an MBA from Vanderbilt University, Crenshaw served and rose to the rank of Captain in the United States Army before earning an honorable discharge in 1996.
Crenshaw started his civilian career in organizational systems and processes where he worked with companies such as General Electric Capital, Bank of America, Wachovia, Ford Motor Credit, and ServiceMaster. Most recently, Crenshaw established Crenshaw and Associates Consulting Group where for the last 10 years he has worked with entrepreneurs and organizations on everything from revenue enhancement to business optimization.
"As an alumnus and former Board Chair of Leadership Memphis and volunteer with Volunteer Memphis, I have seen firsthand the incredible work our alumni and volunteers are doing across the Mid-South. Our mission will be to build on that foundation, engage our current and future leaders, and impact Memphis in a way that makes our city better," said Reggie Crenshaw, President and CEO, Leadership Memphis and Volunteer Memphis.
Crenshaw will take over an organization in Leadership Memphis that has a more than 40-year history of preparing civic-minded leaders to work together and improve communities across the Mid-South. Leadership Memphis boasts more than 3,900 alumni that are executives in Fortune 500 companies, pastors of some of the oldest congregations in the Mid-South, innovators in the nonprofit world, patrons of the arts, and countless small business owners that are the lifeblood of Memphis.
Volunteer Memphis, the sister organization to Leadership Memphis builds capacity for effective volunteering and connecting people with opportunities to serve throughout Memphis and Shelby County. The organization helps individuals, families, corporate teams, and community groups strengthen Memphis and the Mid-South through service at more than 300 nonprofit organizations and schools.
Crenshaw's public service extends to organizations outside of Leadership and Volunteer Memphis as well. He has served on the boards for Common Table Health Alliance and Facing History. Reggie Crenshaw is the son of Robert and Cathaleen Crenshaw. Away from the office, Reggie enjoys spending time with his wife, Myra, and their children – Jhavon, Christian, and Connor – as well as serving as a Deacon at his local church.