Executive Class 2021
If you want to change the world, start with your city.
There's a lot of truth in that.  Our efforts to make a difference are more likely to have an impact if we focus our energy and passion on our local communities rather than at a state or national level. Making a lasting difference requires strong community leadership.
That's where Leadership Memphis comes in.  We prepare and mobilize leaders to work together for the good of the whole community.
The Leadership Memphis Executive Program brings together the brightest and most experienced leaders, decision-makers, influencers and connectors in the greater Memphis community, with the goals of learning more about our great city, celebrating our community's assets and digging deeper into complex issues and challenges facing the Greater Memphis area.
Over a nine-month period, participants in the Executive Program are immersed in an intensive experience aimed at building on existing personal and professional leadership skills, developing relationships and networks that drive and accelerate positive change, and delivering an ever-expanding pool of knowledgeable community leaders who are increasingly capable of taking the Memphis-metro area to the next level and then some.
Amazing things happen along the way — the attributes for a great community leader are the same attributes that are needed for leaders in successful organizations. There is no doubt that the Executive Program is a unique form of professional development experienced through our community-based intensive program.
Participants learn a lot about themselves as leaders and facilitators of change, role models for teamwork and collaboration, and champions for disruptive innovation and critical thinking.  They are challenged to stretch themselves and apply newly learned or refreshed skills out of their "comfort zone" — in circumstances and with people that are new to them.  Those learnings can translate to more effective leadership in sponsoring organizations.
We are now taking applications for the 2021 Executive Program which will begin in August 2020 and run through April 2021.
Ideal Executive Program participants are individuals seeking to gain a deeper understanding of the Memphis community with a focus on how to more effectively work together and leverage assets. Participants graduate better equipped to serve as agents of change for the good of the whole community.
Tuition for the Executive Program is $4,995 plus $35 application fee and covers all program materials, meals, and cost of activities. Limited scholarships are available.
Application/Nomination Process
The Executive Program consists of executive level professionals committed to the curriculum requirements and expectations of the organization. Participants are determined by using a selective nomination process. Nominations are typically made by upper-level corporate and community leaders and Leadership Memphis alumni. Self-nominations are encouraged. Selections are made and the cohort is announced in July.
What Participants Say
"Overall, I really enjoyed the program and it helped me gain an even greater appreciation for Memphis.  I really enjoyed the opening advance…. Having an opportunity to actually walk the city and learn about so many wonderful places and agencies that I might have only had a passing familiarity with was wonderful."
"This has been a great experience!  It has made me a better leader and I am in love with Memphis!"
"The networking value alone is an important reason to participate in Leadership Memphis. However, having the opportunity to positively effect change in our communities by impacting the lives of Memphians is the ultimate selling point of the program."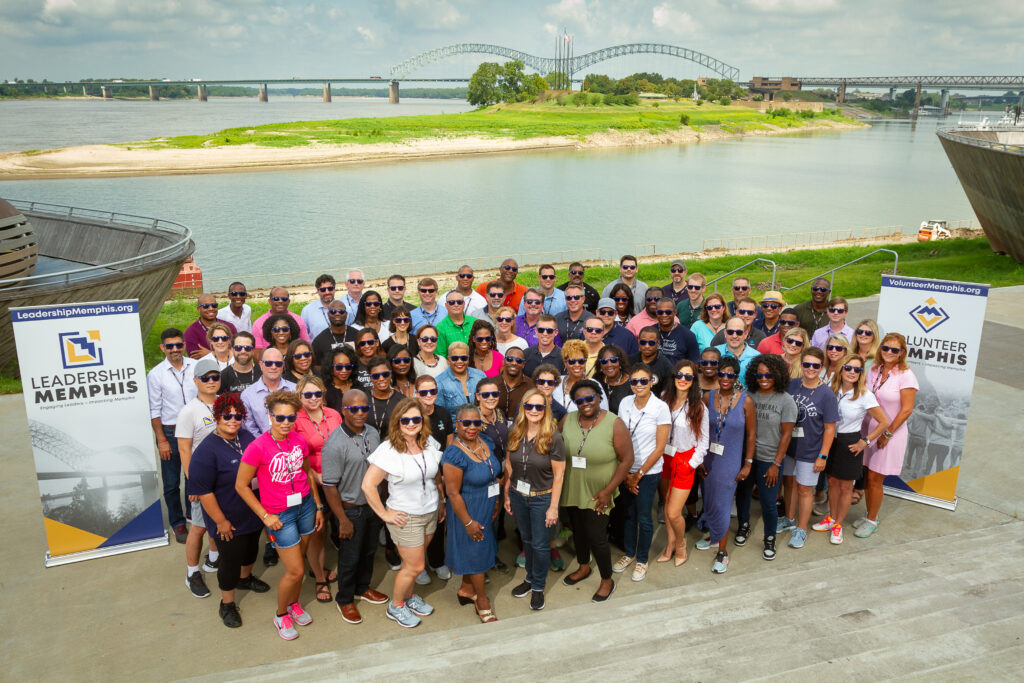 Executive Class 2021 Schedule 
Welcome Reception – August 5, 2020 – 6:00pm to 8:00pm
Opening Advance: MEMPHIS 321 (Optional Overnight Stay)
Wednesday, August 26, 2020 – 7:00am to 8:00pm
Thursday, August 27, 2020 – 7:00am to 9:00pm
Friday, August 28, 2020 – 7:00am to 5:00pm
Class #1 – Friday, September 18, 2020 – 8:00am to 3:00pm
Class #2 – Friday, October 23, 2020 – 8:00am to 3:00pm
Class #3 – Friday, November 13, 2020 – 8:00am to 3:00pm
Class #4 – Friday, December 11, 2020 – 8:00am to 3:00pm
Class #5 – Friday, January 15, 2021 – 8:00am to 3:00pm
Class #6 – Friday, February 19, 2021 – 8:00am to 3:00pm
Class #7 – Friday, March 5, 2021 – 8:00am to 3:00pm
Class #8 – Friday, April 9, 2021 – 8:00am to 3:00pm
Graduation Celebration – Wednesday, April 28, 2021 – 1:00pm to 7:00pm
Current Executive Class 2020 Roster
(Participated August 2019 – May 2020)
| | | |
| --- | --- | --- |
| Name | Company | Job Title |
| Kimberly Alexander | Baptist Memorial Health Care | Pulbic Relations Manager |
| Phyllis Aluko | Law Offices of the Shelby County Public Defender | Shelby County Public Defender |
| Janice Avery-Walthall | Memphis-Shelby County International Airport Authority | Director of Human Resources |
| Scot Bearup | Juvenile Court of Memphis & Shelby County | Senior Attorney |
| Vinay Bhal | Smith & Nephew | Clinical Strategy Lead |
| Kerri Blair | Behind the Scenes | Administrative Director |
| Morgan Bohannon | Cumulus Media Memphis | Vice President & Market Manager |
| Jeff Borgsmiller | Turner Construction | Preconstruction Manager |
| Candi Burton | City of Memphis | Comptroller |
| Alissa Campbell Shaw | International Paper | Senior Manager Community Engagement & Executive Director, IP Foundation |
| David Casteel | United States Navy | Branch Head for Officer Performance and Separations |
| Mark Creech | Tennessee Valley Authority | Executive Director, Memphis |
| Hayley Daniel | ALSAC/St. Jude Children's Research Hospital | Senior Director of Direct Marketing |
| Patrick Elam | FedEx | Vice President of US Operations, Southeast Region |
| Jennifer Ervin | Shelby County Schools | General Counsel & Chief Legal Officer |
| Eric Eurich | FocalPoint Business Coaching | Owner/Business Coach |
| Michael Gabel | FedEx Logistics | Managing Director of International Legal & Regulatory Affairs |
| Brandon Gentry | Medtronic | Senior Distribution Manager |
| Angela Green | On Location Memphis, Inc. | Executive Director |
| Robert Griffin | Memphis in May | Vice President of Marketing |
| Will Griffith | Accredo Specialty Pharmacy | Director of Pharmacy Operations |
| Ruby Hancock | KPMG LLP | Audit Managing Director |
| Chas Harris | Sodexo | Director of Business Development |
| Tim Harris | Memphis Empowerment Initative | Chief Executive Officer |
| Mark Hart | Stanley Security Solutions | Vice President of Sales & Operations, South Central Region |
| Paul Haught | Christian Brothers University | Vice President of Academics & Student Life |
| Kandi Hill-Clarke | University of Memphis | Dean of the College of Education |
| Markita Jack | First Tennessee / First Horizon | SVP, Talent Acquisition & Employee Relations |
| Carol Jackson | Families Matter, Inc. | Executive Director |
| Tiffany Jackson | BlueCross BlueShield of Tennessee | Provider Incentive & Engagement Manager |
| Greg Jackson | International Paper | Senior Manager of Data Center Operations, Information Technology |
| Will Jackson, III | Christ Community Health Services, Inc. | Chief Information Officer |
| Angela Johnson | Mid-South Food Bank | Director of Donor Relations |
| Jennifer Jones | Youth Villages | Chief Marketing Officer |
| Will Jones | Germantown Presbyterian Church | Senior Pastor |
| William "Bill" Kim | Regional One Health | Senior Vice President and Chief Information Officer |
| Hardin Kimmel | Medtronic | Senior Director of Compliance |
| Marlon King | Fayette County Public | Superintendent of Schools |
| Nicole Lacey | Memphis Area Transit Authority | Chief Communications Officer |
| Velver Lee | Grown Women Swim | Owner & Head Instructor |
| Rosie McGaughy | Hershey's | Senior Human Resources Manager |
| Brad Miller | Pinnacle Financial Partners | Senior Vice President, Financial Advisor |
| Dann Miller | The Commercial Appeal | Senior Consumer Experience Director |
| Kimberly Moore | Regions Bank | Assistant Vice President & Community Relations Officer |
| Albert Mosley | Methodist Le Bonheur Healthcare | Senior Vice President & Chief Mission Integration Officer |
| Karen Muntean | United States Navy | Officer Career Director for Human Resources Specialty |
| Tomo Oblak | Sundial Investment Co, LLC | Chief Operating Officer |
| Abusheri Ohwofasa | Memphis Grizzlies | Vice President, Community Engagement & Executive Director, Grizzlies Foundation |
| Richard Paessler | Telarray | President & Chief Compliance Officer |
| Mike Palazzolo | City of Germantown | Mayor |
| Sunya Payne | Shelby County Schools | Director of Family & Community Engagement |
| Steve Peay | Boyle Insurance Agency, Inc. | Senior Vice President |
| Will Perry | Butler Snow LLP | Partner |
| Oksana Piven | Essence Fragrances Inc / Best Real Estate Company | Business Owner / Real Estate Agent |
| Adrian Pomi | FedEx Services | Director of Corporate Communications |
| Tracy Prewitt | Memphis Symphony Orchestra | Director of Finance |
| William "Bill" Rawls | City of Brownsville | Mayor |
| Jennie Robbins | Church Health Center | Chief Financial Officer |
| Chandell Ryan | City of Memphis | Deputy Chief Operations Officer |
| Zayid Saleem | Memphis Police Department | Senior Assistant City Attorney |
| Amy Schaftlein | United Housing, Inc. | Executive Director |
| Sue Schnitzer | Memphis Public Libraries | Assistant Director, Outreach and Special Projects |
| Jay Scott | Sedgwick | Senior Vice President, Pricing & Program Design |
| Lee Eric Smith | Abundant Earth Global CDC | Co-Director |
| Megan Smith | Shelby County Government | Chief Administrative Attorney |
| Kandace Stewart | Memphis Grizzlies | Director of Business Operations and External Affairs |
| Gia Stokes | United Way of the Mid-South | Chief Financial & Administrative Officer |
| Traci Strickland | Triumph Bank | Senior Vice President – Marketing |
| Lauralan Terrill-Grisoni | Smith & Nephew | Vice President of Global Medical Education Orthopaedics |
| Karen Treas | Moore Tech | Vice President of Career Services & Industry Relations |
| Terry Trim | Tops Bar-B-Q | President |
| Sherry Turner | Rhodes College | Vice President for Strategic Initiatives |
| Troy Watson | Servicemaster Facilities Maintenance | President & CEO |
| Jim West | Memphis Light Gas & Water | Vice President & Chief Customer Officer |
| Jeree Wheat | Reynolds Bone & Griesbeck PLC | Senior Audit Manager |
| Richard Williamson | Bryce Corporation | Vice President, Human Resources |
| Andre Woods | Bancorp South | Community Development Lender |
| Cedrick Wooten | Shelby County Criminal Court Clerk's Office | Chief Administrative Officer |
| Anthony Young | Epicenter Memphis | Capital Executive in Residence |